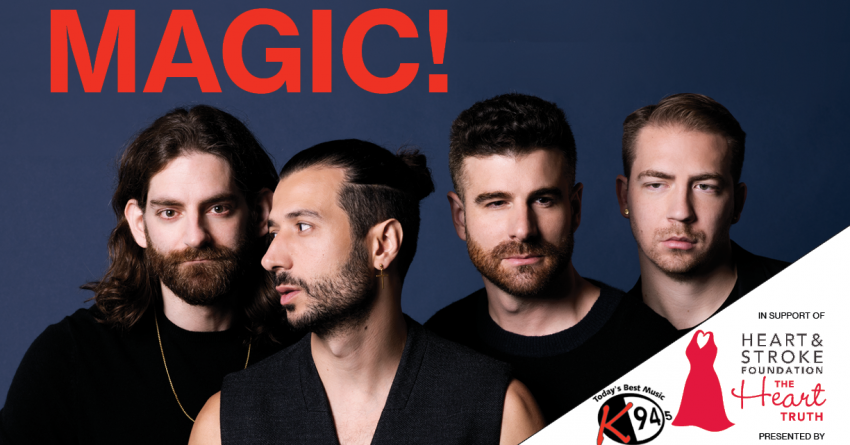 MAGIC! headlining for 2019 NB Heart Truth — Tickets on sale FRIDAY!
K945 is proud to present the 11th annual NB Heart Truth, coming May 4th to the Molson Canadian Centre, Casino NB — featuring two-time JUNO Award winning Canadian reggae-pop quartet MAGIC!
The Heart Truth is a national campaign spearheaded by the Heart and Stroke Foundation to raise awareness about the risk of heart disease and stroke for Canadian women.
NB Heart Truth is an incredible evening of entertainment, including a full concert! This intimate event features a red carpet reception, an inspiring Red Dress fashion show, and a concert performance by the hugely talented band MAGIC!In addition to being a fabulous evening, all money raised goes directly to the Heart and Stroke Foundation of New Brunswick.
As our guest, you are invited to arrive at 7pm for a red carpet reception. The atmosphere in the lobby will have a gala feel. Jean Coutu will be offering cosmetic touch ups and will have health information available at their booth during the red carpet reception. A local musician will provide entertainment while you have your picture taken with friends on the red carpet, place bids on silent auction items and visit our other sponsor displays. There will be complimentary hors d'oeuvres and a cash bar will be available.
The show begins at 8pm with our Red Dress fashion show. The Red Dress is a symbol of the Heart Truth Campaign. Each model will wear a custom Red Dress designed and created by alumni of the New Brunswick College of Craft & Design's Fashion Design program. There will be 7 women and 3 young girls from New Brunswick who have been personally affected by heart disease or stroke walking our runway in 2019. Dr. Ansar Hassan will be our master of ceremonies for the evening.
Following the intermission, MAGIC! will take to the stage for a full concert performance. They are a multiplatinum global reggae-pop quartet that hail from Ontario. MAGIC! just released their 3rd album this fall. The band made their mark with hit single "Rude", released in 2014 before exploding into viral popularity. Holding the #1 spot on Billboard's Hot 100 chart for six weeks, "Rude" simultaneously dominated the charts globally, hitting #1 in 41 countries. 2 x Juno Award winners with Platinum and Gold Certified singles such as "Rude", "Lay You Down Easy", and "No Way No". They have also received multiple nominations including American Music Awards, Billboard Music Awards, Teen Choice Awards and more. MAGIC! has toured with Maroon 5 and headlined shows all over the world.
When choosing your outfit for the event it's important to know that some guests will be dressed casually while others will use this as an opportunity to get all dressed up in red and black. Dress in a style that's comfortable for you.
TICKETS ON SALE NOW!

Tickets available at CasinoNB.ca & in the Casino gift shop; VIP tables seating can only be purchased directly through Andrea Hearn at the Heart & Stroke Foundation NB via email: ahearn@hsf.nb.ca OR call1-800-663-3600.