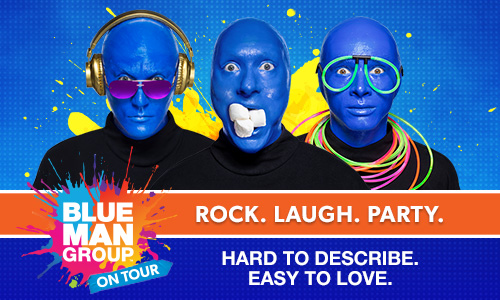 Blue Man Group performing this week in Moncton!
SAVE 20% ON SELECT TICKETS NOW!
WE.CAN'T.WAIT.
This is going to be one of the wildest, weirdest, & most fun shows of your life!
For over 25 years, BLUE MAN GROUP has earned an unrivaled reputation in the global entertainment industry by blending art, technology, music and comedy to create unforgettable, interactive experiences. At Blue Man Group, audiences will rock, laugh and party as three bald and blue characters explore the world and discover surprises at every turn.
What's even cooler about their performances coming to Moncton: we'll be seeing Blue Men Group's newest show, with some pretty amazing tricks up their sleeves!
With no language barrier to overcome, as the Blue Men don't speak, fans of all ages, cultures and nationalities can enjoy the experience.
Blue Men Group will be performing at the Avenir Centre Thursday, Friday, as well twice on Saturday.
Blue Man Group performances are euphoric celebrations of human connection through art, music, comedy and non-verbal communication. Since debuting at New York's Astor Place Theatre in 1991, the live show has expanded to additional domestic residencies in Boston, Chicago, Las Vegas and Orlando, an international residency in Berlin, and multiple World tours, reaching more than 35 million people worldwide.
Tickets: Ticketmaster