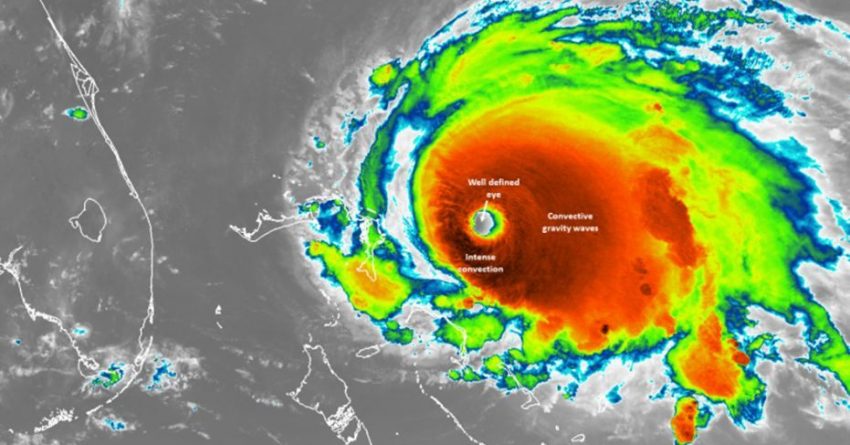 UPDATE: Environment Canada statement on Hurricane Dorian moving into Atlantic Canada this weekend
1. Summary of basic information at 03:00 a.m. ADT.
Location: 31.3 North 79.7 West.
About 178km south of Charleston.
Maximum sustained winds: 185 kilometres per hour.
Present movement: northerly at 11 kilometres per hour.
Minimum central pressure: 955 millibars.
2. Public weather impacts and warnings summary.
Based on the latest forecast guidance, the most likely track projection brings Hurricane Dorian south of the Maritimes on Saturday, pushing through eastern Nova Scotia late in the day, and then over western Newfoundland by Sunday morning. Severe winds and rainfall will have major impacts for southeastern New Brunswick, Prince Edward Island, Nova Scotia, Western Newfoundland, and the Quebec Lower North Shore. There will also be large waves, especially for the Atlantic coasts of Nova Scotia and Newfoundland and eastern portions of the Gulf of St. Lawrence. Finally, there is a chance that storm surge may affect parts of Nova Scotia and Newfoundland.

a. Wind.

Most regions will experience some tropical storm force winds. Near and to the south of the forecast track, winds should reach hurricane force. As the storm moves across Nova Scotia, there is a possibility of hurricane force northwesterlies behind it. Wind impacts will likely be enhanced by foliage on the trees, potentially causing power outages.

b. Rainfall.

Rainfall will be significant, especially north and west of Dorian's track, where heavy rainfall could lead to flooding. The highest rainfall amounts are likely for Nova Scotia and the Gulf of St. Lawrence region. Forecast guidance is suggesting widespread amounts in excess of 50 mm, but north and west of Dorian, a swath of more than 100 mm is likely. Some districts have received large quantities of rain recently, and with the soil moisture still very high from this recent large rainfall excessive runoff may exacerbate the flooding potential.

c. Surge/Waves.

There will also be some rough and pounding surf, especially for parts of Nova Scotia and Newfoundland. Large waves will reach the southwestern shore of Nova Scotia on Saturday and build to near 10 metres over the eastern shore Saturday night. These waves will likely reach southern Newfoundland by Sunday morning. Waves near or higher than 5 metres will impact north facing coasts of the Gulf of St. Lawrence. Note that waves will break higher along some of the coastlines, and dangerous rip currents are likely. Please exercise extreme caution. Storm surge is possible, mainly for parts of Nova Scotia, Prince Edward Island, and Newfoundland, but it is too early to be specific about which portions of the coastline may be affected.
3. Marine weather impacts and warnings summary.
As Hurricane Dorian moves into our waters, there is a good chance of hurricane force southeasterlies near and south of the track, mainly over southern Atlantic forecast waters. As the storm moves into the Maritimes, storm to hurricane force northwesterlies will likely develop behind it. Waves in excess of 12 metres are likely south of the storm track, beginning late Saturday over southwestern waters and approaching southern Newfoundland Sunday morning.
Forecasters: Couturier, Mercer, McArthur.
Please continue to monitor alerts issued by the Canadian Hurricane Centre and forecasts issued by Environment Canada.
For more comprehensive information about track tables and forecast rationale, please see the Technical Discussion
Visit the Canadian Hurricane Centre to learn more about hurricanes.
Updated: 3am Thursday, September 5
Photo Source: Fox News