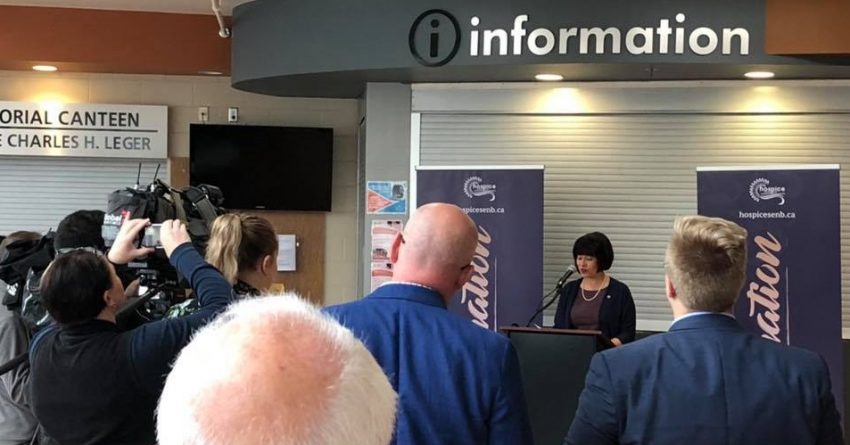 Federal Government investing one million dollars to help build residential hospice in Southeast NB
The Honourable Ginette Petitpas Taylor along with other dignitaries made an announcement this morning at the Crossman Community Centre/Kay Arena that the Federal Government will be investing one million dollars into assisting build a ten-bed residential hospice in Southeastern New Brunswick.
"With our rapidly aging population, the need for better ways to help patients and their families face end-of-life illnesses will only continue to grow. That`s why I am proud to have the Government of Canada partner with the Province of New Brunswick and Hospice SENB, a non-profit organization which has long provided compassionate palliative care to the people of our community, to help ensure that for years to come we will be able to properly care for individuals needing these important services."
The enormous contribution is being distributed through the Canada-New Brunswick Home and Community Care and Mental Health and Addictions Service Funding Agreement 2017-2022.
Joined alongside Petitpas Taylor for the announcement was the Minister of Service NB and Moncton Southwest MLA Sherry Wilson, Chair of Hospice SENB Dennis Cochran's, Chair of the Celebration campaign Julie McKenna, Co-Chair of Celebration campaign Dr. Janice Cormier.
Hospice SENB is a registered charity, established in 2004, that seeks to promote awareness about life-limiting illnesses and end-of-life issues, provide grief and bereavement services and support for clients and their families, and raise funds to build a residential hospice. Its services are free, confidential and are available to those living in Albert, Kent and Westmorland counties.
Photo Source: Facebook