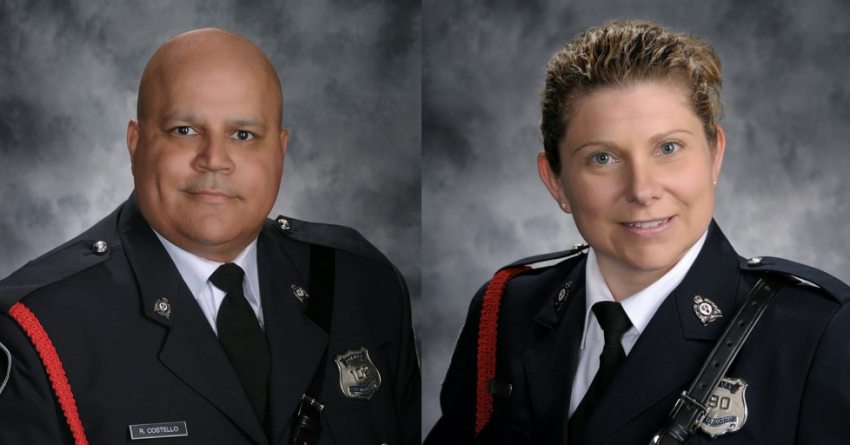 Fredericton man charged with four counts of 1st Degree Murder
The Fredericton Police Force has charged 48-year-old Matthew Vincent Raymond with four counts of first-degree murder, following the events that took place Friday.

Raymond is scheduled to appear in court Monday, August 27.
The names of police officers & civilians killed have been released:
45-year-old Lawrence Robert Costello; a 20-year veteran of the Fredericton Police Force, who leaves behind his partner & four children.

43-year-old Sara Mae Helen Burns; who had served on the Fredericton Police Force for two years, and as an auxiliary officer for two years prior, leaving behind her husband & three children.

42-year-old Donald Adam Robichaud and 32-year-old Bobbie Lee Wright were also killed in the incident.

*New Brunswick RCMP's Major Crime Unit is assisting in the homicide investigation — are asking for the public's help with photos or video footage depicting what took place on Brookside Drive. Details how to anonymously send them video footage/photos here.
Friday, August 10 – Fredericton Police Force responded to an incident this morning in the city.
Police were on scene along Brookside Drive, between Main & Ring Road, around 8am following apparent reports of residents hearing multiple gunshots between 7am & 8am.
At 8:20am, they announced that a shooting occurred, in which four people died.
Among the four dead were two Fredericton Police Officers, authorities stated at 10:30am. There is no word on their names or any info on the other two deceased at this time.
Police confirmed shortly after 10am that they had a suspect in custody, suffering from severe injuries; 48-year-old Matthew Vincent Raymond, of Fredericton.
Shortly after 11am, they announced there was no further threat to the public.
Raymond is scheduled to appear in court Monday, August 27.
Canadians across the country were shocked to wake up to news of the shooting in Fredericton. We mourn with everyone who has lost a loved one, and wish all those injured a speedy and full recovery. Full statement: https://t.co/9WEbag7GgS

— Justin Trudeau (@JustinTrudeau) August 10, 2018