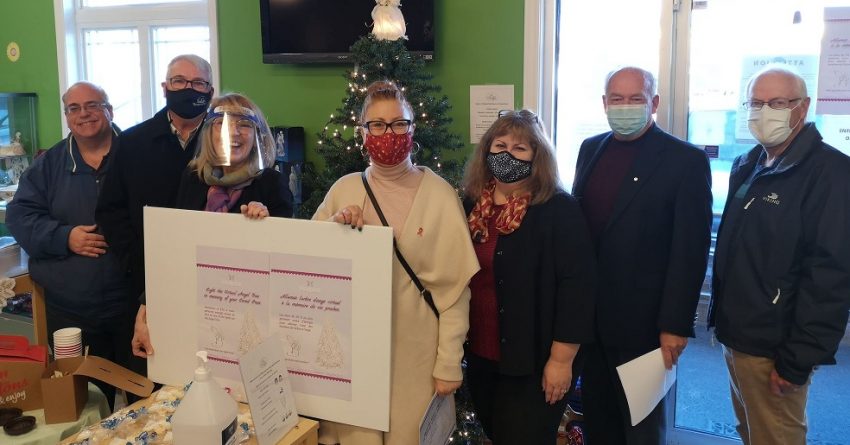 Hospice Southeast NB launches 'Angels Remembered' key fundraising campaign
This morning, Hospice Southeast New Brunswick launched its 5th annual Angels Remembered campaign at their Hospice Shoppe location (164 Collishaw) — in support of hospice & palliative care services to residents within Albert, Kent, & Westmorland Counties.
Hospice SENB:
"Established in 2004, Hospice Southeast New Brunswick provides free, confidential palliative care and bereavement services to residents of Albert, Kent and Westmorland counties. The annual Angels Remembered is a flagship event wrapping up the year's events and celebrating Loved Ones who have passed to become the Angels we Remember. The campaign runs from November 18th to December 18th, 2020.

Handmade-angels, angel bookmarks, glass angels and a virtual angel tree were presented by Hospice SENB for sale at The Hospice Shoppe, online and at the Salisbury Baptist Church Christmas Craft Fair on December 6, 2020. Crafted with love by Hospice SENB volunteers, hand-made angels of every variety will be available for purchase at The Hospice Shoppe. Again this year, our wonderful partners at Kent Building Supplies will be selling paper angels from stores in Moncton, Dieppe and Riverview. Paper angels will be available at Kent Building Supplies starting December 1st, 2020.

The Angels Remembered campaign is a key fundraising initiative for the not-for-profit organization. This year, in lieu of selling angels at Walmart and at the Turners Christmas Craft Show, we are inviting donors to make $50 donations on the Hospice SENB website – $50 donations will light up the Virtual Angel Tree for everyone to enjoy."
Donations can be made to Hospice SENB 2020's Angel Tree online at Hospice SENB.