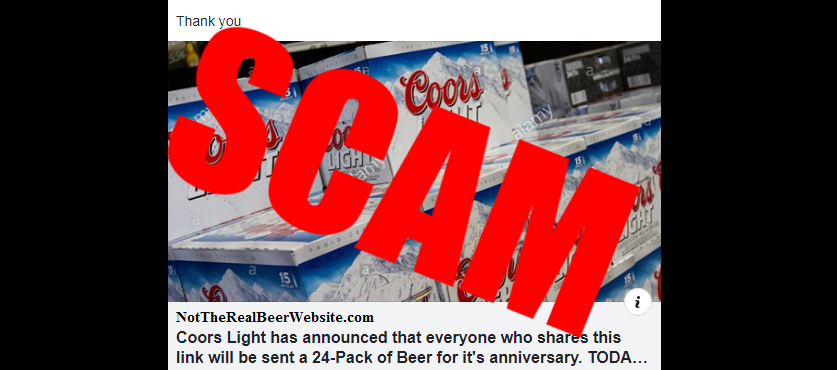 It's Facebook scam season once again! No, sharing random links won't get you a free 24-case of beer.
NO — Ellen DeGeneres & Tyler Perry aren't giving out a million dollars to everyone who shares a Facebook post.
NO — Sobeys, Costco, Ikea, and Superstore are not dishing out $75 in gift cards by sharing website links.
NO — iTunes isn't dishing out free gift cards to everyone who shares a Facebook post
NO — that "tiny home" group is not giving away a $15,000+ value tiny home to a person who randomly shares their post.
And NO — you're not getting a free 24-pack case of beer simply by sharing website links.
PAY ATTENTION TO THE LINKS YOU ARE SHARING.
These steps add an extra 45 seconds of "work," but they will help keep your information that much safer from being sold to spam emailers/callers & scammers:
Verify the Facebook page that created the post your are sharing (check for "authenticity" — a Verified badge, number of followers, scroll down to see if that one post is the ONLY thing on their Facebook page, etc.
If you're sharing a website link for a contest, read the web address/check the source to be sure you're actually on a legitimate company/coupon website before "signing up" and giving address, telephone, and personal information away.
Read the fine print or contest/regulations page of the website you are sharing from. if they don't have any, be skeptical.
If a coupon website forces you to download software just to open/view the coupon, it's not real. Either that, or enjoy your new virus!
If a sign-up forces you to give out personal information like emails & passwords, it's a scam.
If a coupon or giveaway forces you to "complete a survey" to enter, it's a scam & not worth your time.
Before we go, here are some fine examples of "Fakebook" pages designed to attract you to like & share, and how to catch them before you spread "Facebacteria" all over your friends' walls: