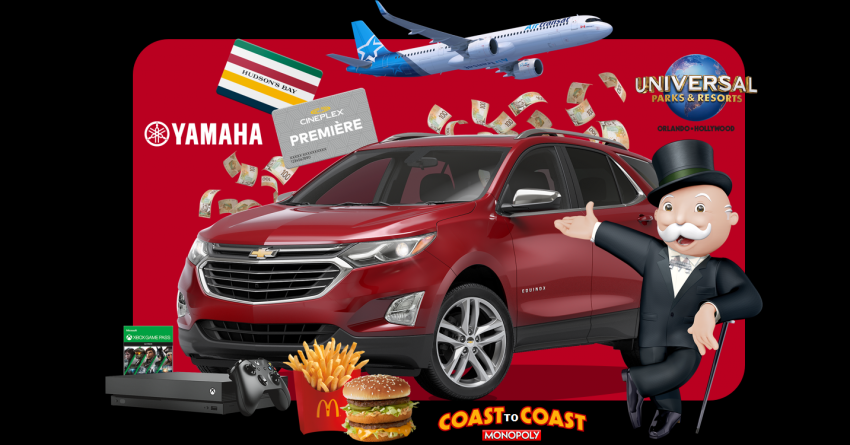 McDonald's Coast to Coast Monopoly returns to Canada Tuesday, October 8!
Rich Uncle Pennybags is making his return to Canada next week, in-restaurant and in-app with McDonald's Coast to Coast Monopoly!
There are millions of prizes just waiting to be won! Get ready to start playing, tracking and earning Rewards on October 8th!
Community Chest Instant-wins are returning, along with the coloured Monopoly board game pieces you have to combine in order to win major prizes with!
This year's game comes with over 17,000,000 food prizes that give a 1-in-5.53 chance in winning — and 1,900,000 instant win non-food prizes — including gift cards, Roku streaming sticks, Xbox One X bundles, 4K Ultra HDTVs, and so much more!
The amount of collect and win prizes are insane this year!
2020 Chevrolet Equinox vehicles
Yama Wolverine side-by-sides
Cineplex Premiere Cards (free movies for a year for you & a guest)
5,000,000 RBC rewards points (or a $50,000 cheque)
Air Transat family vacations to the Fives Azul Beach Resort in Mexico
Esso gas for a year
$5,000 in Vanilla prepaid MasterCards
$10,000 in cash
Lots more!
You might be asking yourself "What food & beverage items come with game pieces?" Here's the abridged version (see here for full details):
Big Mac sandwiches
Quarter Pounder sandwiches
Angus sandwiches
McChicken sandwiches
Seriously chicken sandwiches
McWrap sandwiches
10-piece & 20-piece ChickenMcNuggets
Large Fries
McMuffin sandwiches
Hash Browns
medium, large, & extra large hot McCafé beverages (select hot beverages/sizes)
medium & large Fountain Drinks
medium & large Triple Thick Milkshakes
Make sure you check out the My Mcd's App for more Coast to Coast Monopoly fun — they're giving away a WEEKLY $5,000 cash prize!