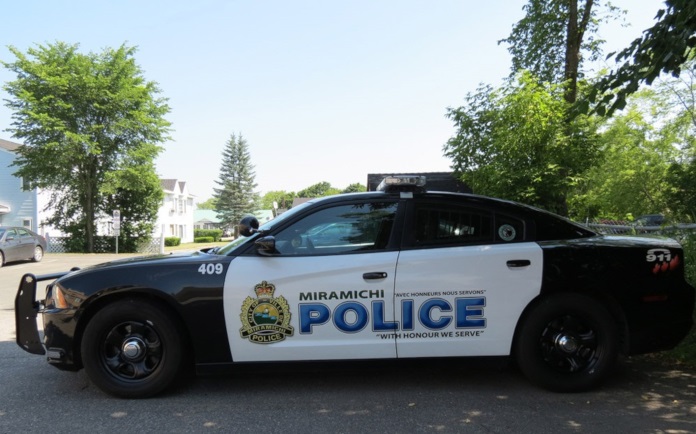 UPDATE: Suspect dies from gunshot inside vehicle following Walmart incident, high speed chase
Update — one of two suspects in getaway vehicle stopped by police after an incident at the Miramichi Walmart has died of a gunshot wound.
RCMP New Brunswick:
The Richibucto RCMP assisted the Miramichi Police Force in stopping a vehicle fleeing from an incident in the City of Miramichi.

At around 5:30 p.m. on October 31, 2018, Richibucto RCMP responded to a request for assistance from the Miramichi Police Force that a vehicle travelling south on Route 11 was refusing to stop for police.

RCMP deployed a spike belt across Highway 11 near Richibucto resulting in the vehicle coming to a stop. Shortly after, RCMP members heard a shot fired inside the vehicle.

The driver, a 26-year-old man, was injured and taken to hospital where he later died as a result of his injuries. A 41-year-old woman, who was a passenger in the vehicle, was arrested at the scene by the Miramichi Police Force.

No shots were fired at police and no one else was injured in the incident.
Previous details: Investigation is ongoing in Miramichi after a man walked into the city's Walmart & fired multiple gunshots.
Customers say a man with a neck tattoo, who appeared to be in his mid to late 20s, had fired three shots inside the store & fled the scene around 5pm.
The Douglastown Supercentre was placed into lockdown for about a half hour until police had arrived & allowed people to leave.
Unconfirmed reports say the shots were fired by a shoplifter as he was fleeing the scene.
In a statement, Walmart confirmed "shots were fired in our store and the store was placed on lock down. Thankfully, no customers or associates were injured."
A statement issued by the Miramichi Police Force say authorities were in pursuit of the vehicle for about 70km down Route 11 before they were able to stop the vehicle — Richibucto RCMP aided in stopping the vehicle.
The statement also said "The vehicle's occupants were taken into custody."
*Photo source: Police Canada, Olivier Hunt