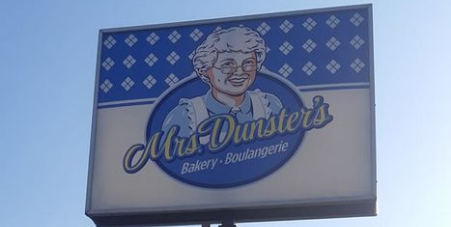 Mrs. Dunsters bakery opening in Moncton 'later this year'
Blair and Rosalyn Hyslop, Co-CEO's and Co-Owners of Mrs. Dunster's Bakery in Sussex NB, announced today that the company will be expanding operations by opening a new bakery in Moncton, New Brunswick later this year.
"In these uncertain times, we feel a lot of pride in doing our part to grow the economy of New Brunswick and Atlantic Canada by investing more than $4.5 million dollars in this new bakery. This is the first bakery of its size built in Atlantic Canada since the Mrs. Dunster's bakery in Sussex, NB was built more than 20 years ago." said Blair Hyslop, Co-CEO.
The new 37,000 sqare foot bakery, located on St. George Blvd. in Moncton, will focus on baking fresh baked breads, rolls, pastries and pizza shells for grocery stores and restaurants across the Maritimes and Maine and frozen baked goods to stores across Canada. A future phase of the project includes plans to open a Mrs. Dunster's retail store at the same location.
Rosalyn Hyslop, Co-CEO of the company explained that this investment is a direct consequence of more people in Atlantic Canada choosing to buy local food. "Over the past few years, we've seen a dramatic rise in the number of customers choosing to buy food made by local companies. These trends, combined with the commitment and dedication of our team of awesome employees who work hard to bake yummy food everyday, have made this exciting project possible."
"COVID-19 has highlighted the importance of strong, sustainable, local food supply chains to our communities and the region. The Government of Canada is committed to giving businesses and communities the tools they need to be part of the economic recovery and emerge stronger than before," said the Honourable Ginette Petitpas-Taylor, Member of Parliament for Moncton-Riverview-Dieppe. "Mrs. Dunster's, the largest family-owned and operated bakery in Atlantic Canada, has contributed to the regional economy for many years. I am excited to see Mrs. Dunster's Bakery move forward with these innovative upgrades, in its new location.
The General Contractor on the project is Iron Maple of Sussex, NB, with support from Fundy Engineering of Saint John, NB. The project is being funded through financing support from the Bank of Montreal with additional support from Opportunities New Brunswick and the Government of Canada, through the Atlantic Canada Opportunities Agency (ACOA).
ACOA provided a repayable contribution of $750,000 through the Regional Economic Growth through Innovation (REGI) program, which helps businesses adopt innovative technologies that support scale-up, productivity and competitiveness.
More Info: Mrs. Dunsters