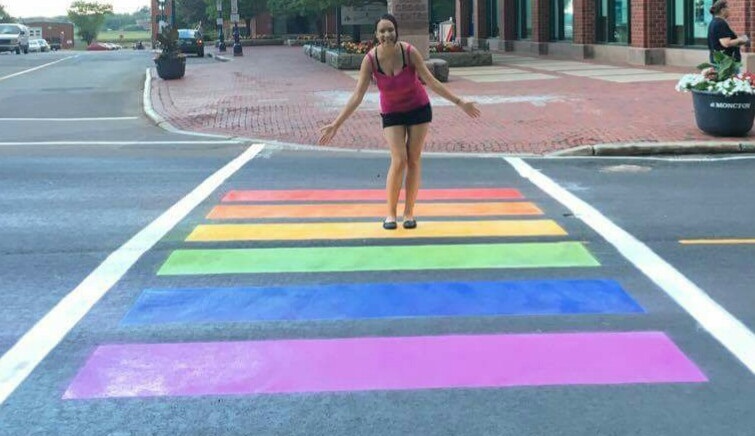 Province tells NB municipalities to hold off from further painting rainbow-coloured crosswalks
---
---
Over the past week, municipalities across New Brunswick have been asked to refrain from painting further rainbox sidewalks on provincial roads.
In a press release issued by Charles MacDougall with Moncton's River of Pride, it reads that the NB Department Transportation & Infrastructure recently announced that a recently-formed committee within the Transportation Association of Canada has begun conducting a national study into "non-conforming colours & patterns found i the nation's crosswalks."
"The Department of Transportation and Infrastructure, opting to follow the TAC's guidelines, has written to municipalities explaining that rainbow crosswalks, although not strictly illegal, should not be painted until the end of the TAC's study."

"The Transportation Association of Canada's Executive Coordinator has informed us that the committee will not be holding public consultation and has not set a fixed timeline for the end of the study. The next follow-up was to be provided in the fall."
At this time, there is no confirmed end date in sight for this study.
Reports say a press release from the City of Moncton reads they will conform with the province & revert to painting its four rainbow crosswalks with white paint for the time being.
Following the River of Pride press release, NB Premier Brian Gallant issued a statement on Twitter:
---
Municipalities are allowed to paint rainbow crosswalks – and they are encouraged to do so as an expression of pride and inclusiveness. https://t.co/0MiwEFtnUp pic.twitter.com/QDFHbWNhUI

— Brian Gallant (@BrianGallantNB) June 4, 2018
This information comes just weeks after the Town of Sussex painted their very first rainbow crosswalk, which sparked controversy amongst its residents.
*Photo source: Facebook