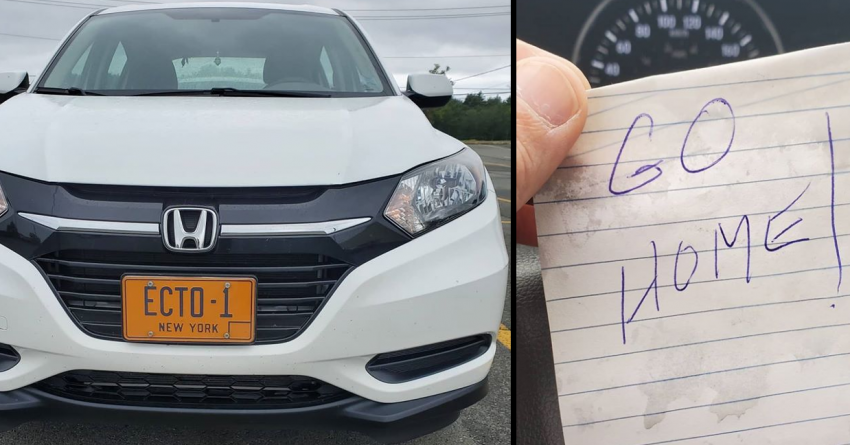 Maritimers shamed for being Ghostbusters fans with vanity New York plate on their vehicles
What's this world coming to, that Ghostbusters fans just can't live in peace?!
On Wednesday, Nova Scotian Benjamin Hebb was shamed for being a Ghostbusters fan following leaving his vehicle parked in a Walmart parking lot — having the iconic "ECTO-1" New York vanity plate attached to the front of his car.
Upon exiting the Bridgewater Walmart, Benjamin noticed a passive aggressive post-it note on his vehicle, telling him to "GO HOME."
Of course, while we were initially thinking either Gozer or Zuul left this note to scare him out of the Walmart parking lot — we're assuming this is the handy work of a "neighbourhood watch avenger" of sorts, in an attempt to shame vehicle owners/renters with out-of-province license plates attached to their vehicle. Including Atlantic Canadian vehicles with vanity plates, of course. No exception!
There are so many other things that license plate warriors could be doing with their spare time, rather than staring at license plates — let's list some options!
Read a book
Look at cloud shapes in the sky
Count the blades of grass on their lawn
Play a game of Monopoly
Ensure their own family is practicing safe physical distancing and pandemic guidelines
Watch Ghostbusters at the Neptune Drive-In this weekend (July 17-19)
Photo Source: Benjamin Hebb, Facebook