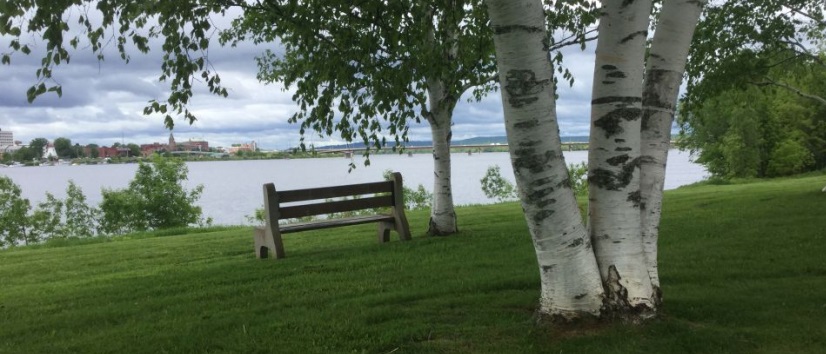 Reports of dogs dying, including Moncton pup, after playing in St. John River; blue-green algae to blame?
Fredericton Police Force as well the city of Fredericton are investigating multiple reports of dogs dying after playing along the Saint John River last week. Although there is no immediate answer as to why, theories have surfaced that blue-green algae growth could be to blame.
Shawn McFadden & family, from Moncton, were camping at the Hard Island RV campground outside Fredericton along the river — After about a 15 minute swim in the river, their 8-month-old dog Nike went back to their trailer & went into a quick, intense shock. She began vomiting & lost control of his bodily functions, so they began to rush her to hospital.
Nike died en route.
Following Nike's death, Shawn had read an article published over the weekend about a 10-year-old papillon & 12-year-old shih-tzu dying within an hour of each other after returning from a walk in Carlton Park, Fredericton.
The owner of these two dogs, Jeff Wilhelm, told reporters that he & his girlfriend took their four dogs for a walk in Carlton Park — Sookie & Peekaboo, two of the four dogs, were interested in something by the water.

Wilhelm could not find what the pair were so interested in.

The dogs were persistent in returning to the spot, so the couple took their dogs home.

While they were traveling home, Sookie started to experience similar symptoms to that of Nike, & died shortly after while Wilhelm & his girlfriend contacted the vet.

Very soon after, Pekaboo became violently ill. She was rushed to the vet & administered a vomit-inducing medication, but died in the moments following.

"It was so quick & violent… One minute she's playing & having fun, less than 10 minutes later she's dead."
These two incidents were 10km apart, occurring on opposite sides of the Saint John River.
At this time, there have only been the two reports of pet deaths along the river.
It's with great sadness that we share our story in hopes of reaching out to others so that this tragic event doesn't happen again. We lost our beautiful puppy Nike in such an unexpected and terrible way on Friday July 20 while camping at Hartt Island on the Saint John River. After a short swim in the river Nike must of eaten something in the water and quickly went into what looked like shock, convulsions and lost control of bodily functions..we quickly rushed her to the animal hospital but they were not able to save her. Annette Duguay from Riverside Miniature American Shepherds has been a huge support for us during this difficult time and has requested a necropsy to help us get to the bottom of what's happening in this river..two other dogs died this same weekend along the same river in the same manner that we lost Nike. We need to protect our loved ones such as our amazing Nike who was only 8 months old…she was family and brought us so much joy! I will attach photos of other stories shared this past weekend. Please help us spread the word..something needs to be done!
The manager of NB Veterinary Laboratory and Pathology Services, Dr. James Goltz, suspects blue-green algae is to blame for these deaths — "some blue-green algae species can produce toxins (microcystins), which can impact the health of humans and animals."
Goltz told reporters "These can kill animals within half an hour of exposure and after the toxin has been ingested."
*Photo Source: Tourism Fredericton, Facebook