Selfie Sticks continue to be banned at major tourist destinations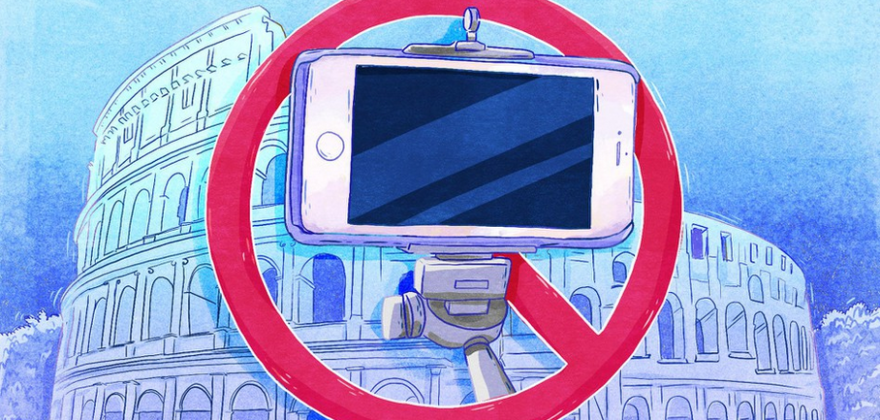 I honestly thought Selfie Sticks were ridiculous for the longest time — my first interaction with a selfie stick involved my extended family eating at a restaurant in Alma, with my dad hovering his Selfie Stick over a senior couple's meals who were eating beside us. They had no idea there was a camera between their faces until they looked up, completely horrified… I had that memory nearly blocked from my head, until now.
Needless to say, I caved when i found one on clearance from $24.99 to $3.99 at the start of the year at Shoppers (I never miss out on a good deal, regardless if it's something I'll never use) — And I've never used it once yet. Regardless, I now feel trendy AF.
Today, though, it seems Selfie Sticks are on the decline — that many popular tourist destinations are banning the use of Selfie Sticks in resorts, clubs, even some of the biggest giants like Disney Land and Rome's national selfie hotspot, the Colosseum, are urging tourists to leave their Selfie Sticks at home!
If you're looking to travel to any of these areas, you may want to start learning to use those natural selfie sticks we call ARMS!
– The National Gallery, London
– The Montreal Museum of Fine Arts
– Pointe-à-Callière Archaeology Museum
– The Colosseum in Rome
– The Palace of Versailles, Paris
– 19 Smithsonian museums and galleries
– The Museum of Modern Art, New York
– The Cooper Hewitt Museum, New York
– The Metropolitan Museum of Art, New York
– The Guggenheim Museum, New York
– The Frick Museum, New York
– The Brooklyn Museum
– The Hirshhorn Museum and Sculpture Garden, Washington
– The Museum of Fine Arts, Houston
– The Art Institute of Chicago
– The Detroit Institute of the Arts
– The Albertina museum in Vienna, Austria
– Brazilian soccer stadiums
– Soccer stadiums for Arsenal and Tottenham in England
– The Seattle Art Museum
– The Getty Center, Los Angeles
– The Museum of Fine Arts, Boston
– Wembley Stadium, London
– The Carnegie Museums of Pittsburgh
– The Frick Pittsburgh
– Music venues O2 Academy Brixton and O2 Arena, England
– Cleveland Museum of Art
– The Perot Museum of Nature and Science, Dallas
– The Dallas Museum of Art
– Blanton Museum of Art, Austin, Texas
– The MTS Centre, a sports arena in Winnipeg
– The National Gallery of Victoria, Australia
– The National Gallery of Australia in Canberra
– The National Portrait Gallery, Australia
– The Canadian Museum for Human Rights
– The Sugarmill nightclub, England
– The 2015 Ultra Music Festival, Miami, Florida
– The Soundwave Music Festival, Australia
– The Qantas Credit Union Arena, Sydney
– Etihad Stadium in Melbourne
– Domain Stadium in Western Australia
– Perth Arena 
– Suncorp stadium in Brisbane
– The Hermitage in Amsterdam
– The Kentucky Derby
– Wimbledon
– Disney World
– Lake Winnepesaukah
– Comic-Con
– Six Flags
*List & photo creds to Mashable