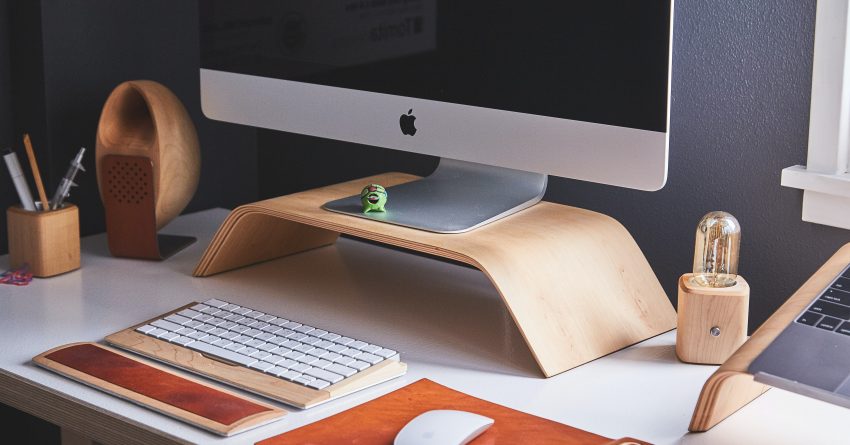 Spring cleaning? Here are some tips to organize
Computer Shelf
Make this simple-yet-useful computer shelf for your desk with a few pieces of scrap wood and a nail gun. We built the one shown with a one-foot by two-foot piece of plywood and two pieces of a 1×3 board cut to 12-inch lengths. Then we used a brad nailer to attach the plywood to the boards. You could paint or stain the assembled piece to match your room decor or leave it as is for a purposefully unfinished look. The shelf will raise your computer screen to an ergonomic height, making it easier to see and more comfortable to work at your desk!
Bread Tabs for Labelling Cords
Not sure which cord goes with which electronic device plugged into your power strip? Save yourself the hassle of following the cord from the plugin to the device for each item you need to move by labelling them. Plastic bread tabs are perfect for labelling cords that are plugged into a power strip because they're sturdy, have enough room to write on and can easily clip around the plug end of a cord. Plus, they often come in different colours. You can also use bread tabs to label identical toothbrushes in the bathroom, silverware at a party and even wine glasses at happy hour. So save those tabs when you buy a loaf of bread!
Write Notes on the Washer
Stop shrinking your sweaters! When you put a load of clothes into your washing machine, use a dry-erase marker to note on the lid which items should not go into the dryer. That way, whoever switches the load from the washing machine to the dryer will know which items to leave out for line drying. The enamel finish on most washing machine lids is similar to a whiteboard, and dry-erase markers can be removed easily with a dry paper towel.
Use a Pallet to Store Lawn and Garden Equipment
If you have a yard or a garden, you know that there are a lot of long-handled tools involved. If you don't have any pallets lying around, they are easy to get for free. This is a quick one-hour project and after you're done, your tools will be organized and easy to reach. You could easily attach this pallet to a fence, shed or to the exposed wall studs in your garage. No matter what you choose, you'll want to make sure that your screws are long enough to go through both your pallet and the wall you are attaching it to. We drilled two screws into the pallet, one into each exposed wall stud. You won't need a ton of screws or nails because the pallet isn't all that heavy.