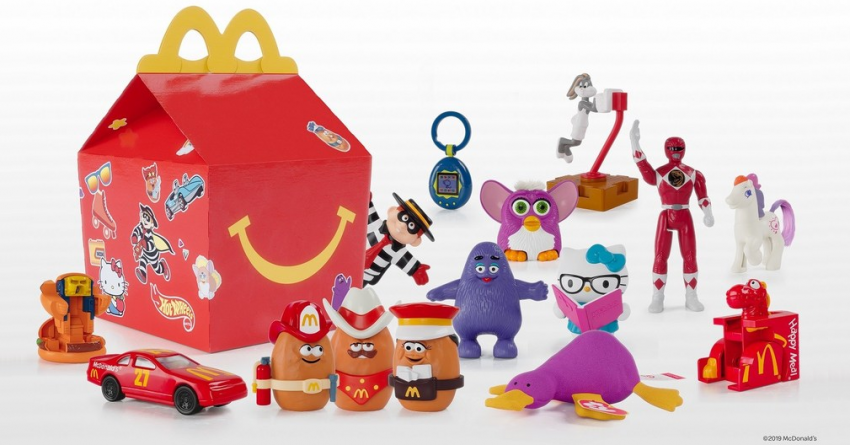 'Surprise Happy Meals' bringing back the best McDonald's toys to Greater Moncton locations for limited time
From Thursday to Sunday (November 7 to 10), you just might be grabbing a Happy Meal for yourself along with the kids — some of McDonald's hottest Happy Meal toys from over the years are returning across Canada for an extremely limited time in celebration of the Happy Meal's 40th anniversary!
"To celebrate the 40th anniversary of the first-ever Happy Meal, McDonald's is launching the limited-edition Surprise Happy Meal with some of its most popular Happy Meal toys from the last four decades. The Surprise Happy Meal will be available in more than 90 countries around the world and at participating McDonald's restaurants in Canada for a limited time beginning Thursday, November 7 through Sunday, November 10, while supplies last."
Now, these "Surprise Happy Meals" will be literally just that — you cannot see through the toy's packaging, meaning you never know what you're going to get until you open it up!
Here are the throwback toys that made the list for restaurants across Canada:
Cowboy McNugget* (McDonald's): 1988
Fireman McNugget* (McDonald's): 1988
Mail Carrier McNugget* (McDonald's): 1988
Hamburger Changeable (McDonald's): 1989
Grimace (McDonald's): 1990
Dino Happy Meal Box Changeable* (McDonald's): 1991
McDonald's Hot Wheels Thunderbird* (Mattel): 1993
Hamburglar (McDonald's): 1995
Power Rangers (Hasbro): 1995
Space Jam Bugs Bunny (Warner Brothers): 1996
Patti the Platypus (Ty Beanie Baby): 1997
Tamagotchi (Bandai): 1998
My Little Pony (Hasbro): 1998
Furby (Hasbro): 1999
Hello Kitty (Sanrio): 2013
*Excluding Quebec
Some of these were the coolest toys — I still have that exact blue light-up Tamagotchi keychain they're bringing back from when I was 8 years old! #Memories
"In Canada, the Happy Meal also holds a special place in the hearts of Canadian families, with a portion of the proceeds from every Happy Meal sold going to Ronald McDonald House Charities® Canada (RMHC®). The Happy Meal program has raised more than $70 million for the charity since 2004. These funds help keep more than 25,000 families close together each year at Ronald McDonald Houses and Ronald McDonald Family Rooms across Canada, while their child is being treated at a nearby children's hospital."
More here: McDonald's Canada
Photo Source: McDonald's Canada