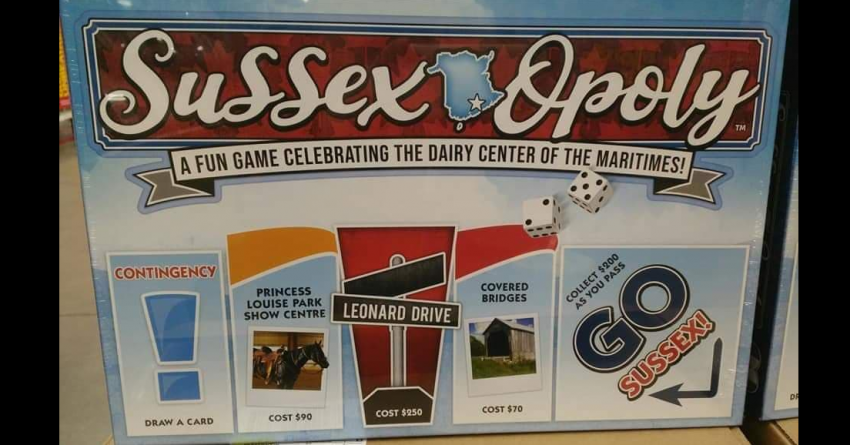 Sussex joins the ranks & gets their own official board game: Sussex-Opoly!
If you're looking to "celebrate Sussex" to the max — you've got to pick up this "new" board game, based entirely on Sussex!
Sussex-Opoly! A fun way to experience the Dairy Centre of the Maritimes!
The game was made by Outset Media Games, based in Victoria, BC — not only for Sussex, but there's also Moncton-Opoly,  Halifax-Opoly, Charlottetown-Opoly, and practically all other cities & towns across the country they've made the game for — complete with local landmarks & businesses for each respective area/game.
This game's got everything local for properties — Leonard Drive, The Bluff, Covered Bridges, Murals, Princess Louise Park Show Centre, even a space for the Atlantic International Balloon Fiesta! If I'm being honest, though, that "Traffic Jam" space should really have been written as "Tractor Jam."
We're also definitely hoping there's a space set aside for the Egg Fountain on Church Avenue!
You can rent single properties, or "City Blocks" if you have the multiple properties instead of houses — and can charge higher rates if you have the "Key to the City," instead of placing hotels.
We're wondering what kind of "Contingency" (Chance) cards you can pick up — "Win Uncle G's Karaoke Competition, collect $50" — "Win a free hot air balloon ride, advance to GO" — "Go to the Drunk Tank" (instead of jail) — "Win bull-riding competition at Princess Louise Park Show Centre, collect $200 and a free bull" — "Kennebecasis River backs up, do not pass Go AND pay $2,000" — stuff like that.
You can pick up Sussex-Opoly locally, in town, at the Sussex Walmart!
Photo Source: Facebook