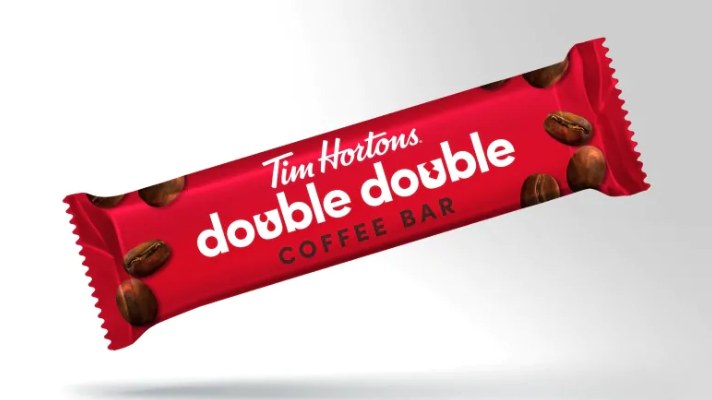 Tim Hortons creating "Double Double Coffee Bar" to hit stores in Fall
Soon enough, you'll be able to carry your double double in your pocket — literally — with Tims' new coffee bar, aimed to hit stores in the fall!
Enter the Double Double Coffee Bar — shaped like a chocolate bar, but contains no chocolate — an edible version of a double double coffee, complete with caffeine!
Tims says it's "a smooth and silky texture with an espresso bean finish."
They're saying the Double Double Coffee Bar is great for both coffee drinkers & non-coffee drinkers alike,
If you want to keep kickin' it old school, Tims is also rolling out additional new retail coffee products, starting in February:
Instant coffee: Ready to drink anywhere, Tim Hortons new rich, smooth and delicious instant coffee is made with Tim Hortons own blend of 100% Arabica coffee beans that deliver a well-balanced, crisp flavour and smooth finish. Flavours include Medium, Decaf and Light Roast.
Iced Coffee: Ready-to-drink editions of Tim Hortons refreshing, premium blend iced coffees available in the Double Double™ and Regular flavours.
Iced Capps: An exciting relaunch of three of Canada's favourite cool and creamy ready-to-drink Iced Capp® flavours, including Original, Vanilla and Mocha.
Tims instant coffee is going to start rolling out at participating restaurants/retailers in February, with ready-to-drink Iced Capps & Iced Coffee available in March.