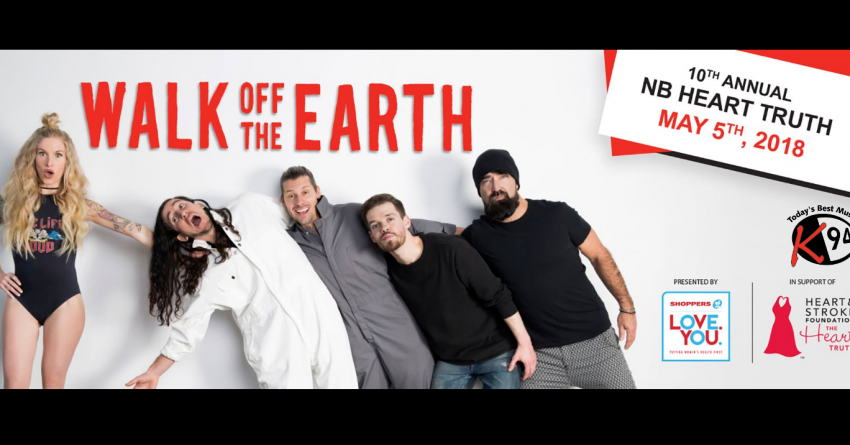 Walk Off The Earth headlining for NB Heart Truth — Tickets on sale NOW!
Tickets are on sale now — get them ASAP before they sell out!!! TicketFly — Casino NB
Walk Off the Earth is coming to Casino NB's Molson Canadian Centre Saturday, May 5 — headlining the 10th annual NB Heart Truth!
"NB Heart Truth is an incredible evening of entertainment, including a full concert! This intimate event features a red carpet reception, an inspiring Red Dress fashion show, and a concert performance by the hugely talented band Walk Off The Earth. In addition to being a fabulous evening, all money raised goes directly to the Heart and Stroke Foundation of New Brunswick.

As our guest, you are invited to arrive at 7 pm for a red carpet reception. The atmosphere in the lobby will have a gala feel. A local musician will provide entertainment while you have your picture taken with friends on the red carpet, place bids on silent auction items and visit our sponsor displays. There will be complimentary hors d'oeuvres and a cash bar will be available.

The show begins at 8 pm with our Red Dress fashion show. The Red Dress is a symbol of the Heart Truth Campaign. Each model will wear a custom Red Dress designed and created by alumni of the New Brunswick College of Craft & Design's Fashion Design program. Our models are chosen for many different reasons. These women are from New Brunswick and they could be a survivor, someone who has been touched by heart disease or stroke, a community health advocate or a business leader.

Following the intermission, Walk Off The Earth will take to the stage for a full concert performance. They are an unconventional, multi-talented five-piece musical phenomena from Ontario that is currently taking the world by storm. Their brilliant 5-people-playing-one-guitar interpretation of Gotye's "Somebody That I Used To Know" exploded on Youtube garnering well over 35 million views in under 2 weeks. The massive fan response quickly drew attention to their collection of innovative songs and videos spanning their last 5 years and generated an unprecedented flood of media interest. New fans from around the world immediately fell in love with the band's organic, independent, sincere and honest original songwriting, cover interpretations and beautifully filmed videos.

Special swag bags will be scattered throughout the theatre and placed at our VIP tables, courtesy of our presenting sponsor Shoppers Drug Mart. Shoppers Drug Mart will also be offering cosmetic touch ups and will have health information available at their booth during the red carpet reception.

When choosing your outfit for the event it's important to know that some guests will be dressed casually while others will use this as an opportunity to get all dressed up in red and black. Dress in a style that's comfortable for you.

To learn more about this event, please visit our Facebook page:  www.facebook.com/nbhearttruth

In-person ticket purchase: Tickets can be purchased in person at the Casino New Brunswick Gift Shop located just inside the front entrance.

Casino New Brunswick is located at 21 prom. Casino Drive, Moncton."