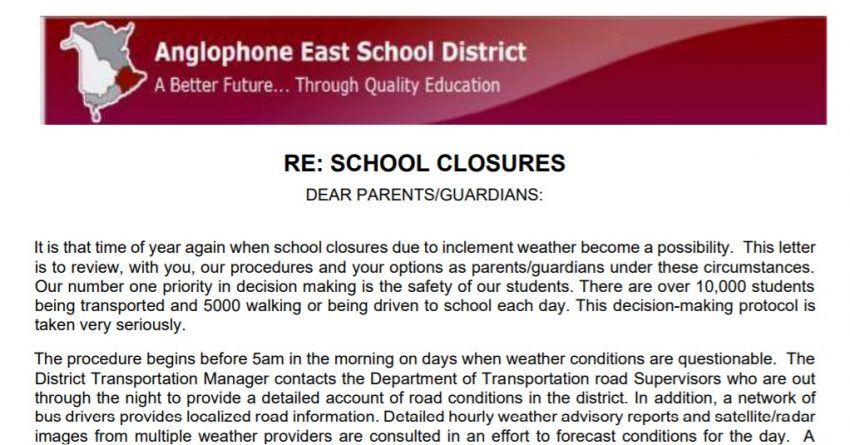 Winter weather reminder from ASD-E
With colder days (and nights) ahead of us, it also means that we will be seeing some of the "S" word sooner rather than later…and Anglophone School District East is getting ahead of the curve with a reminder of their winter weather procedures.
It's that time of year again, where Old Man Winter may throw a wrench into our weeks. Please visit https://t.co/a95iNoPfZ9 to familiarize yourself with our storm closure protocols ❄️ 🌬 pic.twitter.com/6ZSLCXuS2t

— AnglophoneEast (@AnglophoneEast) November 16, 2020
In the event of a closure, information regarding district or regional school closures and late or cancelled buses, is available through the SNOWLINE 856-SNOW (7669), Twitter (# ASDEALERTS), email subscription, and the district website (www.asde.nbed.nb.ca).
The district outlines in their inclement weather policies, what happens when we get inclement weather. There are three options;
Schools are closed for the day with the appropriate announcements being relayed to radio
stations prior to 6:00 A.M. for broadcast. This information will also be available on the
Snowline: 856-SNOW (7669), Twitter and our website at www.asde.nbed.nb.ca.
Some schools or regions in the district are closed, in which case announcements will be
made. The name of the region will be used in radio announcements, on the Snowline: 856-
SNOW (7669), Twitter and our website, www.asde.nbed.nb.ca.
Buses are delayed 1 hour. When this occurs, staff and walking students are expected to
be at school at the normal time.
Schools are closed early when weather conditions deteriorate seriously during the day. In
this case, every effort will be made to inform parents/guardians using radio announcements
and school calling procedures prior to students being dismissed.
We will also have the cancellations and updates for you daily, weekdays on the KRise!