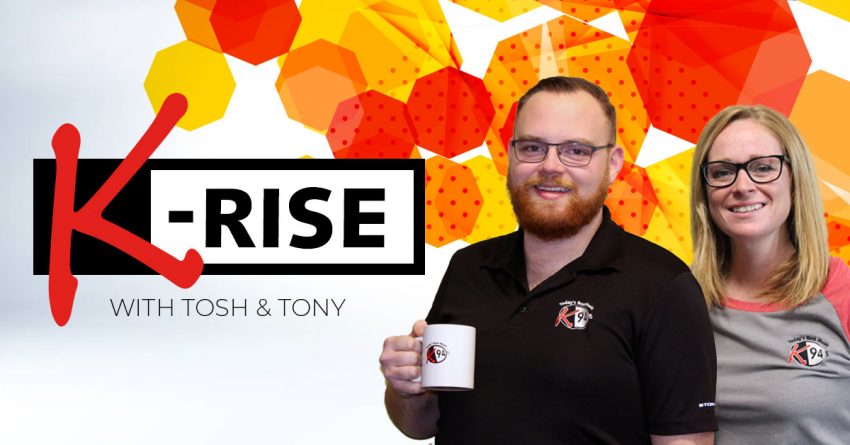 The K-Rise with Tosh & Tony
Join Tosh & Tony weekdays from 6AM – 10AM!
Q & A with Tony
Here's two tickets, you can see anyone dead or alive…who is it?
The Tragically Hip
Describe yourself in 3 words?
Friendly, Outgoing and Chatty
Celebrity Crush?
Meghan Markle
Something you've done that you never thought you'd do?
Fly…yup get on a plane. Wasn't until I was asked to travel for work in a previous gig that I actually even got on an airplane!
What's your biggest fear?
Spiders…and the apocalypses
One thing on your 'bucket' list:
See a Broadway musical in New York
Who is the most famous person you've ever met?
I stood 10 feet away from Lebron James once…does that count?
What's the worst fashion choice you ever made?
Frosted tips in middle school… *face palm*
What's the luckiest thing that has happened to you?
I once put a toonie in to a vending machine and got two bags of chips
Q & A with Tosh
You get to invite 3 people dead or alive to dinner. Who do you invite?
Easily Johnny Depp, Captain Jack Sparrow & Edward Scissorhands
Describe yourself in 3 words?
Happy, Tired and Mombie
What's your biggest fear?
BIRDS!!!!
What's one place you want to visit?
Scotland on the one day it's warm a year
Who is the most famous person you've ever met?
Tracy Morgan
What's the one thing people would be surprised to know about you?
I can touch my tongue to my nose
What gets you fired up?
Like really fired up? I'm a ginger basically everything sets me off
Where is the most interesting place you've been?
Blarney Castle Ireland
What movie title best describes your life?
The Hangover 1, 2 & 3
What's the luckiest thing that has happened to you?
I won $20 on a scratch ticket once
Talk to us! You can reach out to Tosh & Tony using the form below