Hunger Awareness Week 2017
September 16, 2017 @ 6:30 am

-

September 23, 2017 @ 5:00 pm
Event Navigation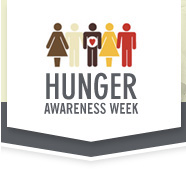 Hunger Awareness Week
HUNGER AWARENESS WEEK is all about awareness of those in need around us…
We encourage everyone to take a few moments during the third week of September each year to really think of those less fortunate and struggling from day to day to feed themselves and/or their families and what you can do to help.
How can you help… every bit helps…
Donate Food – As you are purchasing your groceries this week, we encourage you to drop one or more food items in one of the Food DEPOT Alimentaire donation bins located at some of our major shopping centres
Donate Money – We will provide you with a tax receipt for the full amount of your monetary donation
Donate Time – Volunteer in one or more of the many activities scheduled throughout the week.
Participate! SEE BELOW FOR DETAILS ON LOCAL EVENTS
For more information regarding Hunger Awareness, visit www.foodbankscanada.ca
Hunger Awareness Week 2017
SPONSORS 2017
CEO Playtek Enterprises
Molson Coors
Les Productions Fusion Productions
Canadian Auction Express
Toys for Big Boys
Sobeys
Sparkle
Arseno General Contractors
TICKETS ARE AVAILABLE AT HUNGER AWARENESS WEEK EVENTS!
Schedule of Activities
Sept 7- Caledonia Cup Classic, Lakeside Golf & Country Club, 1:00pm, 18 teams Texas scramble.
Sept 10- Strike Against Hunger Volleyball Tournament, Co-ed, 12:30pm-8:30pm, Crossman Community Centre Gym, $20 per player.
Sept 16 – MolsonCoors presents 'Bites 'n Brews', Eric Molson Room, MolsonCoors Brewery, 6:30-11:00pm. Tickets are $65 per person.
Sept 23 – Matt LeBlanc's 'Electrifying Tuuko II', Fusion Productions, Casino New Brunswick, Reception & Art Sale, 7:30 PM, Show & Dance Party, 9 PM, Tickets are $60 per person.
Sept 23 – Bikers 'Ride for Hunger' Motorcyclists meet at Toys for Big Boys for BBQ, 11:00am-1:00pm, Minimum donation of $20.