Walk Off The Earth – SOLD OUT!
May 11 @ 8:00 pm - 11:00 pm
Event Navigation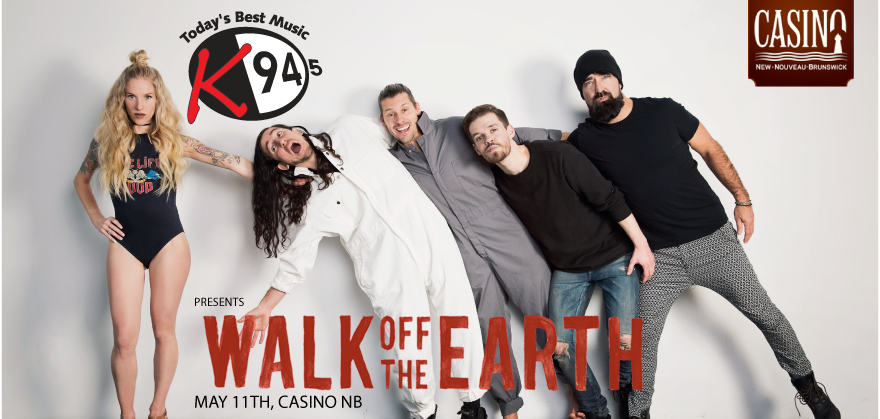 *PLEASE NOTE THIS EVENT IS SOLD OUT*
Today's Best Music K94.5 is proud to present Walk Off The Earth on Thursday, May 11th at the Molson Canadian Centre at Casino NB!
Walk Off The Earth is an unconventional, multi-talented five-piece musical phenomena that is currently taking the world by storm. Based in Burlington, Ontario (just outside of Toronto), their brilliant 5-people-playing-one-guitar interpretation of Gotye's "Somebody That I Used To Know" exploded on Youtube garnering well over 35 million views in under 2 weeks. The massive fan response quickly drew attention to their collection of innovative songs and videos spanning their last 5 years and generated an unprecedented flood of media interest. New fans from around the world immediately fell in love with the band's organic, independent, sincere and honest original songwriting, cover interpretations and beautifully filmed videos. For the past 5 years, the band has built a massive following of dedicated fans from around the world through their unique and heartwarming approach to songwriting, filming and constant, open interaction with everyone their music touches.
The chemistry between the members of Walk Off The Earth is undeniable. Marshall, Sarah and Gianni's individual vocal styling's mesh seamlessly with Taylor's haunting harmonies and keys all the while soaring over epic melodic arrangements held together by Joel Cassady's driving and prolific percussion work. Their independent spirit, unstoppable work ethic and awe-inspiring creativity has catapulted Walk Off The Earth into new and uncharted waters with only bigger and better things on the horizon.
Tickets for the Moncton show go on sale Friday, February 17 and range in price from $59.99 to $69.99 for Bleacher tickets (plus tax and applicable surcharge). Tickets will be available at the Casino Gift Shop (located at 21 Casino Drive in Moncton, exit #450 off the Trans-Canada Highway), by calling 1-866-943-8849 and online at www.casinonb.ca
Doors open at 7 p.m. This is an all ages' show.